A Celebration of Style: New Branding for Jim Duprey Salon
There are few endeavors more exciting than helping a talented professional craft their brand image, especially when it's someone as spectacular as our FAVORITE stylist, Jim Duprey. We've always admired Jim for his unique flair and unparalleled style, and when he reached out to us to design and install new branding and signage for his new storefront, we were ecstatic!
The journey began with an intensive brainstorming session. After all, how do you capture the essence of such a dynamic personality? We knew we wanted something classic yet trendy, sophisticated but not stale. What we settled on was a series of signs that would reflect Jim's brand, ethos, and style, all in one.
The first signs have already found their place today at the spanking new home of Jim Duprey Salon. Their sleek design and expert installation radiate a message: a beacon of high fashion and exquisite styling awaits you inside.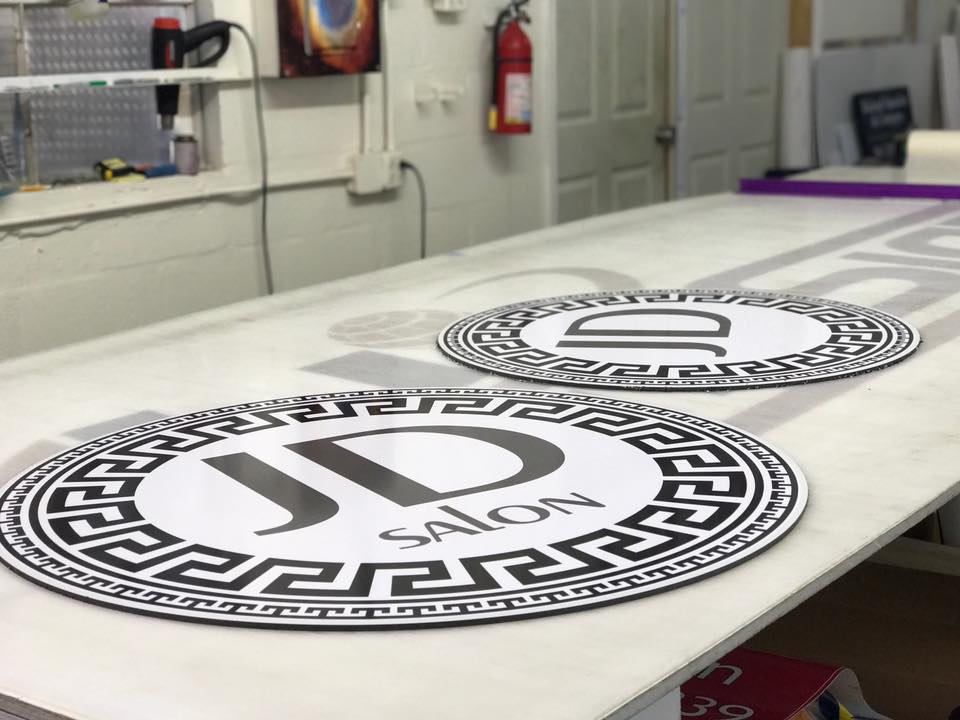 However, the pièce de résistance is yet to be unveiled. Next week, we're rolling up our sleeves to install a truly iconic piece. Imagine custom signs boasting intricately routed silver lettering. This isn't just any custom sign; this is an expression of the salon's sophisticated allure, the magnetic charisma that only Jim can bring to the table.
But, wait – there's a twist in the tale!
Drawing inspiration from the world of high fashion, we've incorporated a Versace-inspired Greek key graphic. The iconic design, which is synonymous with luxury and opulence, mirrors the lavish experience clients can expect when they step into the salon. The playful hint of "surprise surprise 🤗" with the choice of the Greek key is just so Jim, and we absolutely adore it.
At Hit Signs, when we think of custom signs Tampa businesses will love, it's not just about the materials or dimensions. It's about the stories these signs tell, the brand image they portray, and the emotions they evoke. Crafting signs for Jim was not just another project for us. It was a collaborative journey, blending our expertise with Jim's vision, resulting in something truly special.
Jim, words fall short when we try to express our gratitude. Thank you for entrusting us with such a crucial aspect of your new venture. It wasn't just about creating signs; it was about celebrating your brand's ethos. Your unwavering faith in our capabilities gave us the freedom to think outside the box and have a little fun while we were at it. You've always been more than a client; you're family. And to say "We 💜 you" would be an understatement.
Every project is close to our hearts, but this one with Jim Duprey Salon holds a special place. It was not just about the physical signs but about the bond, the shared laughs, and the combined creativity that flowed when two passionate entities came together.
For businesses in Tampa looking for a touch of distinction, remember that custom signage is more than just about nameplates and direction boards. It's about a brand's identity, its voice, and its presence. And if you're on the hunt for custom signs Tampa can proudly showcase, we're here, ready to bring your vision to life.
As the new home of Jim Duprey Salon gears up to welcome patrons, we can't help but be overwhelmed with pride. Here's to new beginnings, enduring relationships, and signage that tells a story. Cheers, Jim! Here's to making the world a little more stylish, one haircut at a time!