There are moments in the signage industry that make our heart race with excitement, and this particular project for RumFish Grill was undeniably one of them. We've always believed that signs are not just tools for information; they're storytellers. And the story we got to tell with RumFish Grill's new Fish Identifier panel is nothing short of magical.
A Sign Like No Other
The first thing that hits you when you lay eyes on the Fish Identifier panel at RumFish Grill is its sheer grandeur. Made from robust 1/2 inch acrylic and elegantly mounted with 1″ standoffs, it is a marvel in the world of custom signs. The design and mounting technique create an illusion that leaves visitors spellbound – it genuinely appears as if the fish are swimming freely.
RumFish Grill is not just another restaurant; it's an experience. With its 33,500-gallon aquarium that adorns an entire wall of the dining room, it's where gastronomy meets marine wonder. This incredible aquarium, crafted by the talented team from Animal Planet's hit series TANKED, brings the wonders of the aquatic world right to your dining table. Now, imagine enjoying a sumptuous meal, sipping on a delicious drink, and having tropical fish, eels, and even the occasional stingray glide by. That's the RumFish Grill experience for you.
The Art and Science Behind the Signage
When we were approached to design the signage for such an iconic location, we knew it was no ordinary task. It demanded a blend of creativity, precision, and a deep understanding of the RumFish brand and ethos. Every sign, especially custom signs, has a unique story to tell. And for RumFish Grill, the narrative was about the harmony of marine life, the allure of the unknown depths, and the promise of an unforgettable dining experience.
Creating signs that complement such an atmosphere required a deep dive (pun intended) into the world of marine aesthetics. The acrylic's clarity, the choice of typography, and even the standoff mounting method – everything was chosen to elevate the overall aesthetic of the dining space.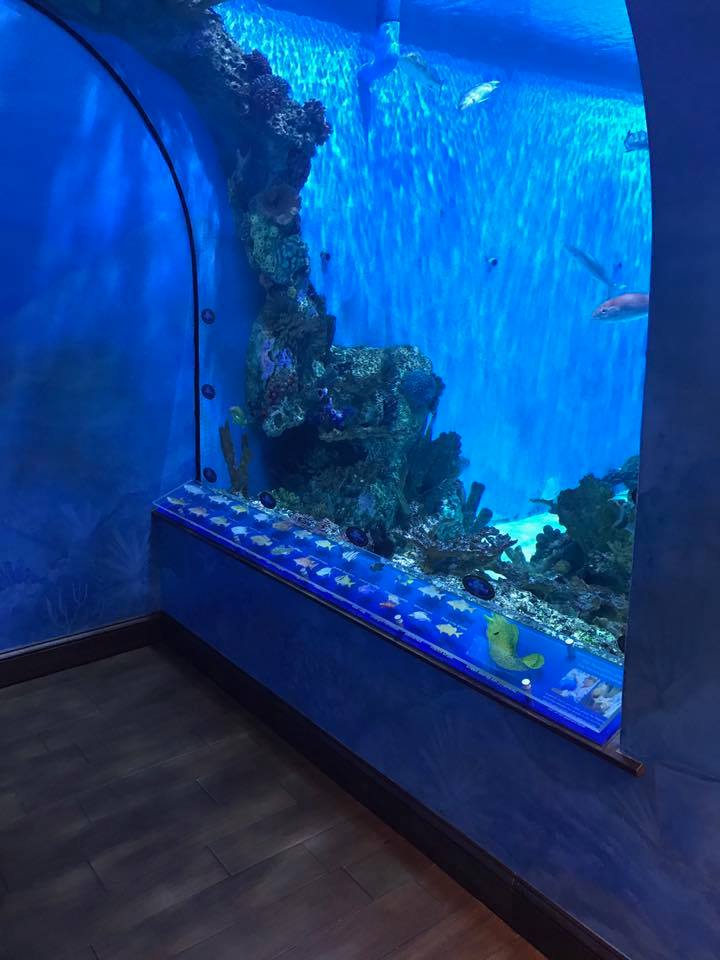 Dive into the RumFish Experience
RumFish Grill is more than a restaurant; it's a destination. Every element, from the gourmet dishes to the aquarium and the custom signs Tampa residents admire, contributes to a unique and immersive experience. When visitors walk through its doors, they are promised more than just a meal. They dive into a world where they can eat, drink, shop, and explore.
Our partnership with RumFish Grill didn't just end with the Fish Identifier panel. We had the honor of crafting all the signage for this incredible location, including the ones for the awe-inspiring aquarium. Every sign, big or small, carries the Hit Signs mark of quality, creativity, and dedication.
A Proud Moment for Hit Signs
It's not every day that we get to brag about our projects, but the work we did for RumFish Grill deserves every ounce of pride we feel. Our custom signs not only add to the ambiance but also help tell the RumFish story. They are testaments to our commitment to quality, design, and customer satisfaction.
When you partner with Hit Signs, you're not just getting a sign; you're getting a piece of art, a story, a brand ambassador. Our signs are where craftsmanship meets passion, and the Fish Identifier panel at RumFish Grill is a shining example of that.
In Conclusion
RumFish Grill stands as an icon in the dining landscape, promising an unparalleled experience. And as you marvel at the aquatic wonders, remember to take a moment to admire the signs, for they too have a story to tell – a story of collaboration, creativity, and dedication.
We invite everyone to head over to RumFish Grill, dive deep into the experience, and while you're there, take a moment to appreciate the intricate details of our signage masterpieces. At Hit Signs, we don't just create signs; we craft stories. And the tale of RumFish Grill is one we'll cherish forever.