Hit Signs can design, fabricate, and install your custom A-Frame signs in Tampa Bay, ensuring your brand resonates vibrantly in Tampa.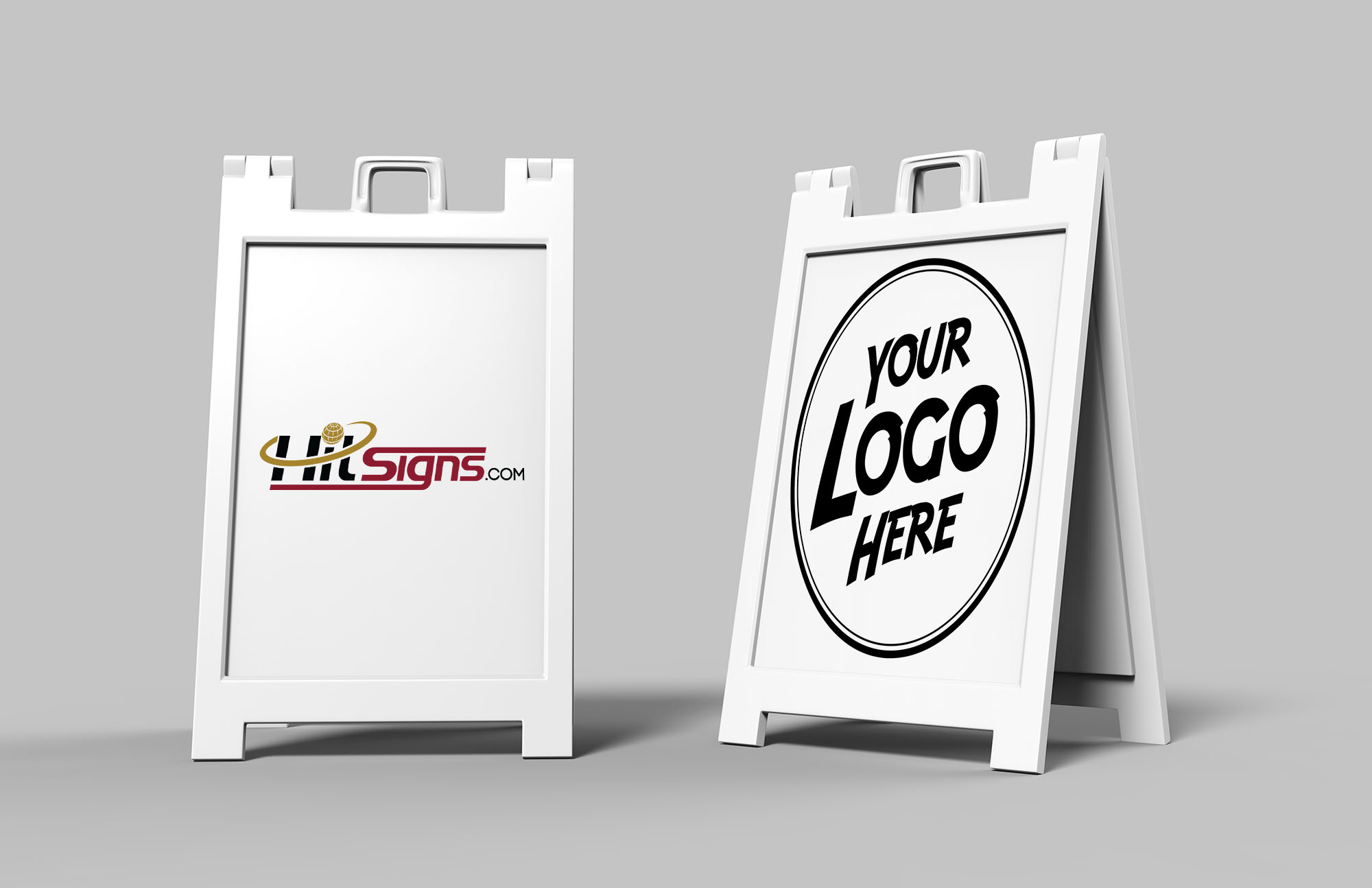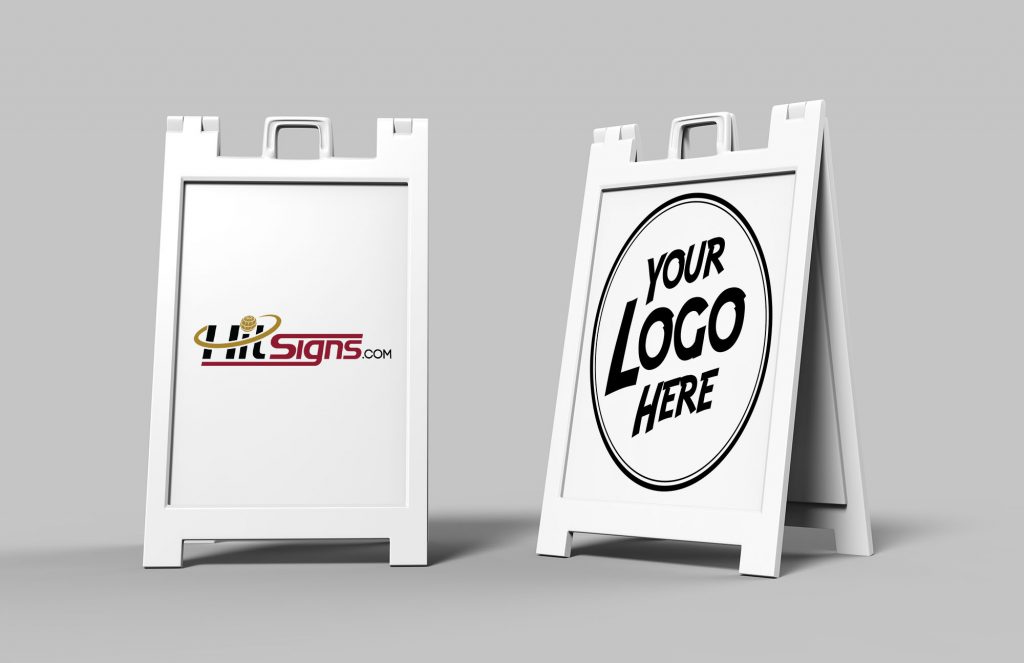 Get a quote here with an instant human response. Monday – Saturday  8am – 6pm
We make A-Frame signs better than any other sign company in Tampa Bay.
We specialize in crafting custom-fabricated and printed
A-Frame Signs in Tampa
. Our A-Frame signs aren't just markers; they're storytellers, resonating with your brand's voice amidst Tampa's dynamic business landscape.
Get Your FREE A-Frame Sign Quote!
A-Frame Signs Tampa: Elevate Your Brand Presence
Navigating Tampa's vibrant streets, one thing becomes clear – the undeniable influence of quality signage in shaping business perceptions. That's where Tampa's A-Frame signs by Hit Signs come into play. Not just signs, but landmarks, guiding both locals and visitors with grace and purpose. Each A-Frame sign we create is a fusion of state-of-the-art technology and unmatched craftsmanship, epitomizing the essence of Tampa's spirited business environment. When it comes to A-Frame Signs Tampa, our creations are more than just attention grabbers; they're statements of quality, innovation, and professionalism.
Why Choose Hit Signs for A-Frame Signs in Tampa?
Customization to Perfection:
We understand that every brand has a unique story. Our team tailors each A-Frame sign to embody your brand's identity, ensuring it stands out and speaks volumes in Tampa's bustling streets.
Quality That Speaks
: Hit Signs doesn't compromise. From design to fabrication to printing, every step in the creation of your A-Frame sign ensures a lasting impression, turning heads and drawing crowds.
Strategic Placement:
In a city as lively as Tampa, the placement of your sign can make all the difference. We provide insights and recommendations, ensuring your A-Frame signs capitalize on foot traffic, catching eyes and sparking interest. Amidst the ever-evolving business saga of Tampa, make sure your brand doesn't just participate but leads the narrative. With
A-Frame Signs Tampa
by Hit Signs, your brand won't just be seen; it will be remembered, celebrated, and sought after. Embark on a journey of unparalleled visibility and recognition in Tampa. Trust in Hit Signs, where every A-Frame sign is not just a product but a promise of excellence.
Get Started!
Where can you use an A-Frame Sign?
Business Promotion in Tampa: Use A-Frame Signs to advertise Tampa-based daily specials, sales, or new product launches to attract walk-in customers.
Directional Signage: Deploy A-Frame Signs during large events in Tampa to guide foot traffic to specific areas or exits.
Real Estate in Tampa: Tampa real estate agents can leverage A-Frame Signs to indicate properties for sale or open houses.
Tampa Cafés and Restaurants: Highlight menu specials or unique offerings in Tampa establishments with A-Frame Signs.
Parking Guidance in Tampa: Use A-Frame Signs in Tampa parking lots to direct vehicles or mark reserved areas.
Event Announcements: Promote Tampa-based events, seminars, or community gatherings using A-Frame Signs.
Informational Purposes: Place A-Frame Signs at construction sites in Tampa for safety warnings or public service messages.
Service Announcements: Tampa-based services like salons or auto centers can use A-Frame Signs to advertise discounts or available slots.
Artistic Displays in Tampa: Utilize A-Frame Signs to showcase Tampa artists, poets, or local events.
Political Campaigning: A-Frame Signs are perfect for promoting Tampa-based political campaigns or voting station information.
Market Stalls in Tampa: Highlight products or prices at Tampa's farmers' markets or craft fairs with A-Frame Signs.
Queue Management: In busy Tampa venues, use A-Frame Signs to inform about ticket availability or queue status.
Garage Sales in Tampa: Guide Tampa residents to yard or garage sales with strategically placed A-Frame Signs.
Tampa Festivals and Fairs: Use A-Frame Signs to display schedules or highlight attractions at Tampa events.
Churches in Tampa: Advertise service times or community events in Tampa using A-Frame Signs.
Schools in Tampa: Promote events, enrollments, or special programs in Tampa schools with A-Frame Signs.
Workshops and Classes: Announce upcoming Tampa workshops or featured instructors using A-Frame Signs.
Pop-up Shops in Tampa: Notify Tampa locals about a temporary store or special offerings with A-Frame Signs.
Vacancy Indicators: Tampa hotels or B&Bs can use A-Frame Signs to indicate room availability.
Safety Warnings in Tampa: Employ A-Frame Signs at Tampa beaches, pools, or parks to display safety guidelines.
Start your order
Acrylic Signs
Address Signs
Awning Signs
Banners
Bar Signs
Blade Signs
Boat Wraps
Building Signs
Bus Wraps
Cabinet Signs
Canopy Tents
Car Wraps
Church Signs
Construction Signs
Coronavirus Signage
Custom Tablecovers
Decals
Digital Signs
Dimensional Letters
Door Signs
Electronic Signs
Flag Signs
Fleet Wraps
Floor Signs
Gas Station Signs
Hanging Signs
Informational Signs
LED Signs
Large Banners
Lighted Signs
Lobby Signs
Menu Boards
Metal Signs
Monument Signs
Office Signs
POP Signs
Pole Signs
Portable Signs
Post & Panel Signs
Printed Backdrops
Product Displays
Promotional Signs
Real Estate Signs
Restaurant Signs
Retail Signs
Retractable Banners
Room ID Signs
Safety Signs
Sandblasted Signs
School Signs
Sidewalk Signs
Storefront Signs
Table Top Displays
Temporary Signs
Tenant Signs
Trade Show Displays
Tradeshow Booths
Tradeshow Exhibits
Trailer Wraps
Truck Wraps
Van Wraps
Vehicle Decals
Vehicle Graphics
Vehicle Lettering
Vehicle Magnets
Vehicle Window Film
Vinyl Lettering
Vinyl Printing
Vinyl Wraps
Wall Graphics
Wall Murals
Wall Signs
Warehouse Signs
Wayfinding Signs
Window Film
Window Graphics
Window Signs
Yard Signs