When it comes to making a statement on the road, there's nothing quite like a custom van wrap. At Hit Signs, we have been working tirelessly to produce quality custom wraps for a variety of clients, all uniquely designed to help each business or organization make a strong visual impact. Recently, we had the distinct pleasure of designing and installing a custom van wrap for the Church of The Coast, located at 3737 1st St NE, St. Petersburg, FL 33704.
The Church of The Coast came to us with a desire to not only spread their message but also to do it in a way that would captivate and connect with the community they serve. They wanted a design that would effectively communicate their vision and mission, while also embodying their vibrant community spirit. With this in mind, our design team embarked on the journey of creating an engaging and visually appealing design.
The design process was as immersive as it was intensive. Collaborating closely with representatives from the Church, we went through several iterations and refinements, continually aligning the designs with the Church's core values. The final design was a harmonious blend of their branding elements with visual cues that resonated with the local community. It featured their brand colors in an abstract pattern, combined with inspiring quotes and the Church's logo prominently displayed.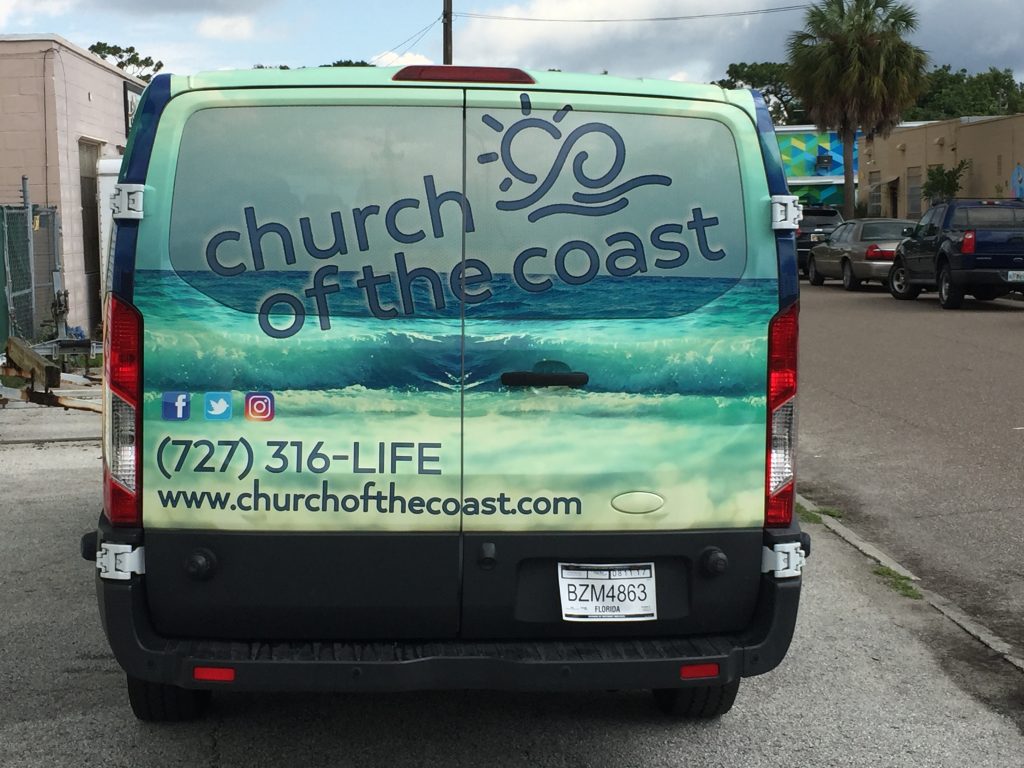 Once the design was approved, we brought it to life using 3M's high-quality, durable vinyl material. At Hit Signs, we understand the importance of quality, especially when it comes to withstanding the daily wear and tear of vehicle wraps. 3M is renowned for its quality and durability, providing wraps that maintain their luster and color fidelity even in the harshest of environmental conditions. We used their material knowing that it would offer long-lasting, vibrant results.
Our skilled installation team took the reins once the wrap was printed. Wrapping a van is no small task – it requires meticulous attention to detail to ensure the wrap is applied seamlessly and without bubbles or wrinkles. Each panel was applied meticulously, ensuring that the design elements lined up perfectly across the van's contours.
But the work doesn't stop once the wrap is installed. After installation, our team conducted a thorough inspection to ensure every part of the wrap met our high-quality standards. This includes checking for any signs of peeling, air bubbles, or imperfections that could affect the overall look and durability of the wrap.
The unveiling was a moment of pride for both our team at Hit Signs and the Church of The Coast. The once plain van was now a mobile billboard for the Church, proudly displaying their commitment to their faith and their community. The vibrant design not only beautifully represented their brand but also created an eye-catching display that was hard to miss on the streets of St. Petersburg.
This project, like all the work we do at Hit Signs, is a testament to our commitment to provide our clients with not just a service, but a comprehensive solution that helps them achieve their goals. Through our collaboration with the Church of The Coast, we were able to transform their vision into a mobile, visual reality that resonated with their community and beyond.
Our work with the Church of The Coast is just one example of how Hit Signs utilizes quality materials, expert design, and professional installation to create striking, impactful wraps. Whether it's for a business, an organization, or an individual, we're here to help bring your vision to life in a way that makes an unforgettable statement on the road.